Renewal Story: Raymonda
Posted: August 10, 2023
Raymonda loved her job as lead cook in a behavioral hospital. But, like most of us at some time in our lives, she wanted to make a change. Shortly after starting her new cooking job, Raymonda endured a brutal dog attack. After some time in the hospital and multiple outpatient treatments, doctors saved her arm. But because Raymonda had taken so much time off in such a short time, she was let go. Unemployed, Raymonda soon lost her car — and then, her apartment.
Raymonda heard about Union Gospel Mission of Tarrant County through her children's school. She came here with her four children, ages eight to 13, last October. Right away, she got back into the kitchen in our Cooking Matters program, a partnership with the Tarrant Area Food Bank. She also enthusiastically participated in our ALPHA program and made many friends among staff and residents.
"I get along with everybody," Raymonda tells us. "I talk to everybody and give them encouraging words."
Raymonda's children have also enjoyed being at UGM-TC, especially at Christmas and Easter.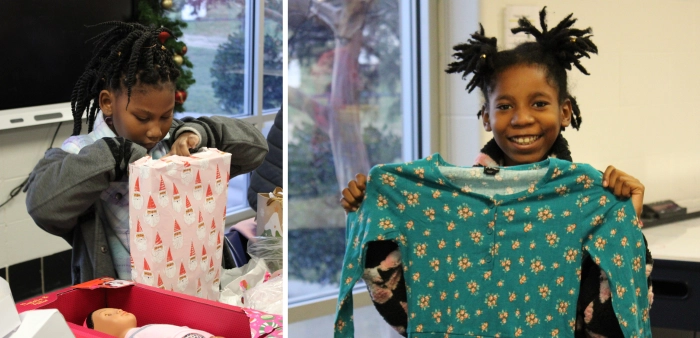 In less than a year since coming to UGM-TC, Raymonda is well on her way to reclaiming the life she lost. But this time, she is stronger than before. She has her faith to see her through, and a practical plan to get back on her feet and stay there. She has just moved into an apartment with her children and is looking even further ahead. "My goal is to get my credit back and buy a house," she says.
That will be much easier now that she has a job. In fact, Raymonda was hired back by Texas Health, the organization that let her go last year — and she is making even more money than before! "My kids are proud of me," Raymonda says. "It feels good to be an example for them. There were times when I wanted to give up, but I kept telling myself, 'Keep going.' And I made it!"